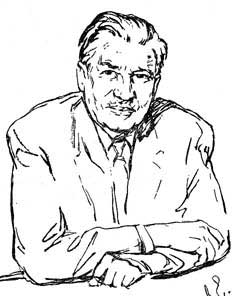 Letavet August Andreevich (1893-1971) - Moscow. The professor, the doctor of medical sciences (1935), the full member of Academy of medical sciences (1950). The Academician-secretary of Hygiene, Microbiology, Epidemic Department of Academy of medical sciences, the director of Hygiene of work and Occupational diseases Institute. He was awarded with Lenin awards, three awards of the Labour Red Banner (1943, 1949, 1958). He also was awarded with the Stalin premium of II degree (1949), the Lenin premium (1963). The deserved Master of sport (1946).
A.A. Letavet was born in Senuly, nowadays it's Madonsky area of Latvian SSR. In 1912 he entered to the Army Medical Academy in Petersburg (was excluded for strikes participation). In 1917 he graduated from medical faculty of the Moscow university. In 1918 he was a doctor in a field army, the local doctor in Kursk province. In 1919 he started to be engaged in industrial hygiene. In 1919-1927 he was a health inspector of the People's commissar of work, 1925-1927 - the senior assistant in the Central Institute of a Labour Safety. In 1927-1935 he managed a sector of Hygiene of work Institute of Ministry of Health. In 1935-1948 he managed a laboratory of Hygiene of work and occupational diseases Institute of Academy of medical sciences of the USSR. From 1948 he was a director of this institute.
His basic works were devoted to problems of general and private hygiene of work, an industrial microclimate, a preventive maintenance of silicoze, an industrial toxicology. He participated in drawing up the first Soviet legislation on a sanitary labour safety of industrial workers. The mechanism of action and clinic of radiation injuries was studied under Letavet's direction. He was a vice-president of the International organization of professional medicine (1961). He wrote about 100 proceedings on hygiene, physiology, radiology. Among them are «The Course of hygiene of work», «Researches on radiating heat exchange of the person and an environment», «Hygienic problems in radiology», etc. He teached not less than a thousand qualified experts being a manager of Industrial Hygiene Department of the Central institute of doctors improvement for 20 years. He was the Honorary member of the J.Purkine Czechoslovak medical society.
He started to be engaged in climbing since 1926. He climbed at more than 20 peaks of Caucasus and Tien Shan ridges Saryter, Ak-Shiyrjak, Nansen and Karpinsky peaks. He supervised over many expeditions, including one stormed an array of Pobeda Peak firstly (1936). He was the Master of sport of the USSR on climbing (1938). He was a long-term chairman of a tourist section of the Moscow House of scientists, a member of presidium of All-Union mountain section, a member of Central advice OPTE. One of Tien Shan peaks is named after Letavet.
«I was always fond of nature and still feel the same about its original kind, virgin instead of resort. Possibly, I was fond of climbing because it was especially close to nature, was inconceivable outside of it. I like climbing for originality of each campaign, each climbing gives something absolutely new. And one more. In what other kind of sports there is a honest wrestling, overcoming of improbable difficulties organically merged with elements of scientific knowledge of the world surrounding us».

TEN EXPEDITIONS TO TIEN SHAN
(See the book: A. Letavet. «Ten travel to mountains of Central Asia»)

Coryphaeuses of Russian geographical science, pathbreakers of mountain ridges, glaciers, river systems P.P. Simeonov-Tien-Shansky, N.M. Przhevalsky, A.P. Fedchenko, V.F.Oshanin, N.A. Severtsov, V.I. Lipsky, etc. started to investigate Central Asia. Their nice names are nowadays appropriated to many peaks and glaciers of Central Asia. It is necessary to mention a self-denying work of topographers, got into remote gorges, glaciers and passes, filling gradually the white spots on a map.
After October revolution researches were conducted with powerful complex expeditions such as Tadjiko-Pamirskaja, Ukrainian, Tien Shan, etc. In was a time of formation and blossoming of union republics of Central Asia Uzbek, Kazakh, Kirghiz and Tadjik republics in which territory the basic proud areas of Central Asia were located. Climbing groups also worked with the expeditions. Since 1929 independent groups of climbers went to the mountains of Central Asia. Some of these groups managed to reach the most remote and poorly reseached mountain areas of Central Asia. During last time well equipped climbing expeditions goes to Tien Shan and Pamir mountains.
As a result of these groups and expeditions activity an outstanding sport success such as climbing at the highest and most difficult peaks of Central Asia was reached. These were Stalin, Lenin, Khan Tengri, the 20 anniversary of Komsomol, the Stalin Constitution, the Marble wall, Pathor, Carl Marx, the 30 anniversary of the Soviet state peaks, etc. At the same time the materials of research of essential value for mountain areas of Central Asia geography gradually collected as a result of these travel.
The author of these lines also accepted a feasible participation in these both sport and research expeditions. The brief story about ten travel accomplished by him to Central Asia mountains is resulted below.
1930, 1st expedition. The majority of the Soviet climbers began their activity and first training on Caucasus. I was not an exception. Then, at a dawn of mountain tourism and climbing development (1925-1929), I have been already accomplished some mountain-tourist campaigns across Caucasus of a raised complexity. Some of them demanded for a climbing technics, for example, the Shovi-Tzejsky pass in 1929. In 1927 I did the first climbing at Zinbery-Hoh alone!
What involved me in climbing most of all? It was its cognitive side, a daily opportunity to observe something new, unique. It was an opportunity of visiting and research of such places of our Native land where it was not any person before. And already at first years of climbing I was most of all attracted with new ways and new routes or little-known passes.
It seemed to me that on Caucasus an opportunity for development of this cognitive side of climbing sport is nevertheless limited. And plans of travel to Central Asia mountains ripened in my imagination. I considered, that, even at modest opportunities of "amateur" campaigns, the decision of sports problems can be combined with interesting inspections of little-known mountain areas, with passage of new routes.
In the summer of 1930 it become possible to realize a campaign in the youngest Soviet republic Tajikistan. It was desirable to combine acquaintance with life of young republic with inspection of glaciers and pass ways to Peter the Great Ridge.
It was six of us. There were me and V.A. Engelgardt, F.I. Solovjov, K.S. Letavet, M.N. Ljubimova, A.A. Yefimova. The plan of travel was big. We assumed to pass gorges of the Surhob and Hingou rivers, to cross Peter the Great Ridge twice, to visit Garmo and Gando Glaciers and than to pass to the Alayskaja valley, to cross over the Alayskij Ridge and to leave Fergana. The plan was basically carried out.
On July 11th, 1930 our group arrived to Stalinabad by just constructed railway line Termez - Stalinabad. It was a capital of young union Tajikistan republic, it just started to grow on a place of small kishlak Dushanbe (that means "Monday" on tadjik languadge, there was a market on Mondays). All city was an original combination of quite modern buildings with pise-walled huts; wide direct streets of new city neighboured with curve streets of old Dushanbe. It was few of green while. The hot, dusty, exhausting wind "Afghan" strongly was blowing.
The nearest purpose of our way was Garm, a center of mountain Tajikistan-Kuhistan where we assumed to organize a caravan. A way up to Garm which now needs for one day on a good highway then borrowed five days. Pack a gangway went on unsteady «ovrings», these were bridges from the brushwood going on a narrow eaves of a rock filling the fallen off track parts. Then way went on infinite rises and descents, through the rough rivers with bridges and without them. It was told that there was an Arabian inscription on a rock of one ovring with approximate translation as «The Traveller, there is a one step from you up to the sepulchral ground, be cautious, as a teardrop on brow».
The hardworking peaceful Tadjik people recently started to build its new life itself. The young republic was captured with construction and work pathos. A highway Stalinabad-Garm was under construction but then it did not reach even Obi-Garm. There were arable lands on slopes of mountains. Some fields are located at a big height, in such places, access to which seems impossible without application of special climbing technics.
In Garm we bourht 6 horses on number of group members. To get from here to gorge of the Hingou river, it was necessary to pass over Peter the Great Ridge. What pass to choose? We refused the initial plan to go through Ljuli-Harvi. Under the data collected it was impassable for a caravan it at that year time. We agreed with affliction on more simple pass Kamchirak located to the west. Really this pass appeared to be quite passed for a caravan. Descent from the pass was abrupt and difficult enough, especially in one place refers to as "edge of a knife".
Very picturesque descent resulted to Chil-Dara in settlement that means «forty gorges». Here is a unit where a set of gorges converges. Behind settlement the track deduces to the Hingou river (the Blue river). Really the water in Хингоу was blue, while the water in the Surhob river (in translation - Red River) was red. In the Vakhsh river formed from their merge tens kilometers downstream water was red at the right coast, and blue at left one.
The way upwards gorge of the Hingou river from Chil-Dara settlement up to Pashimgar settlement took four days. Everywhere in Kishlaks we were met extremely hospitably as dear visitors, treated with «gaaka» (a kind of curdled milk), «jargat» (sour milk), dried apricots.
Pashimgar was the small, sad enough kishlak located near to merge of four rivers: Gando (Kirgizob), Garmo, Sytarg and Batrud. A caravan way ended. What further? Regretfully we refuse the initial plan to visit Garmo glacier. We wanted very much to approach Garmo peak for which the highest point of Soviet Union Stalin peak was wrongly accepted. The ferry through the deep Gando river with our weak horses was of great danger, and we had lack of time. It was necessary not less than ten days to visit Garmo glacier. So, it is solved! Horses with the caravaneer was sent over the pass Gardan-Kaftar, and we with several porters moved upwards Sagran pass, the most east pass over the Peter the Great Ridge. By the road we decided to visit Gando glacier and to promote upwards as far as possible.
The meeting with a caravan was appointed in Devsiar settlement at the cost of Muk-Su in seven days.
We charge backs with heavy backpacks. What waits us ahead? We had only most general data about Sagran pass, and Gando glacier still was visited by nobody.
The Gando river on which right coast our way run, was formed of two very short streams merge, one from Gando glacier (at the left), other of Devlohan glacier (on the right). Apparently, during recent time both of a glacier touched with their tongues. We established the correct local name of the glacier which flows down directly on the south from the Peter the Great Ridge and gives rise to the right stream, forming the Gando river. That was Devlohan glacier.
Overcome an abrupt and difficult talus, we went down on Devlohan glacier tongue, crossed it and arranged a camp on its right coast, in immediate proximity from Gando glacier tongue. From here we assume to make a sortie to Gando glacier for which we can allocate only two days.
Descent to Gando glacier unexpectedly appeared difficult enough and movement along a glacier was also very tiresome. It was possible to pass only 10 - 12 km per day and to reach strips of a pure ice appearing here and there. Next day we attempted to rise on one of the left lateral glaciers on a prospective saddle in a ridge dividing Gando and Garmo glaciers to look at the south and to see a panorama aside Garmo. There was not an expected saddle. The circus of a glacier lying here appeared to be surrounded by peakes, only with small downturn between them. All the day of difficult rise was spent vainly. We turned back, and reached the camp on the Devlohan glacier already in darkness.
Next day we acted to pass Sagran. Rise on pass from the south appeared to be very simple. We settled down on a lodging for the night directly on the pass to photograph a panorama in the early morning. It appeared to be really grandiose. Our attention was attracted with the far and very high peak closing circus of Sagran glacier and sharply towering above all other peaks. Then we wrongly accepted it for Garmo peak. Mazarskiy ridge was also finely visible.
A pass descent to northeast, on Sagran glacier was enough difficult. It goes on abrupt taluses and snowpaths. The way on Sargan glacier reminded our movement on Gando glacier. The ice was also covered with continuous heaps of moraine material. Then was an easy way along gorge of the Sagran river, rise on low Bil-i-Kandow pass and then a descent to the Muk-Su river followed. Exactly in the appointed day we met with the caravan come here through pass Gardan-Kaftar took place in Devsiar kishlak.
Nearby Devsiar we crossed the deep Muk-Su river on unsteady suspension bridge existed there, then passed through Ljahsh, Achik-Alma and Kock-Su settlements and went to Daraut-Kurgan, the beginning of Alayskaja valley. From there we crossed Alayskiy Ridge through Tengiz-baj pass. Our expedition of 1947 named the peak "6994" Moscow peak. Then we went down to a gorge of the Isfajram river and finished a caravan way in Uch-Kurgan city (nowadays Molotov-Abad) in Fergana valley.
So my first travel to Central Asia mountains ended. It confirmed first of all an opportunity of amateur climbing tourist campaigns organization to the most remote mountain areas of the Soviet Union. It also showed that such climbing groups can make some contribution to investigation of mountain areas of our country.
1932, the 2nd expedition to Tien Shan with Engelgardt biologist (the future academician): Alma-Ata - Przhevalsk - Karasayskiy glacier - prior to the beginning of Kockshaaktau ridge - Alma-Ata. I got acquainted with Kolesnik Stanislav Vikentevich, the glaciologist, the future academician and the President of Russian Geographical society.

The first acquaintance with Tien Shan in 1932
In 1932 I visited Tien Shan for the first time. Those years Tadjiko-Pamirskaja expedition widely worked on Pamir. But Tien Shan somehow remained in a shadow. It seemed to me that I can contribute in knowledge of this not enough investigated highland despite of modest opportunities of amateur climbing group.
The plan of first my travel to Tien Shan was to visit sources of Syr-Darya, one of the main Central Asia waterways and to reach Kock-Shaal-tau, the most southern Tien Shan ridges.
Climbers traveled on Tien Shan since 1927, but the beginning of its systematic research concerns only 1931-1932.
Tien Shan subdued me at once with its beauty and variety of landscapes: woods from harmonous Tien Shan fur-trees on mountains slopes, the blue mirror of Issyk Kul lake surrounded with circuits of snow mountains, extensive high-mountainous pastures (syrts) with a juicy grass, the severe mountain peaks chained in ice and ice rivers-glaciers falling down.
The Przhevalsk town named after great Russian traveller N.M. Przhevalskiy is the most convenient base for travel in Central Tien Shan. My first tripl, as well as the majority of subsequent ones started from this nice, green town located near the bottom of Terskey Ala Tau ridge. Here by I met with the known geographer and the glaciologist S.V. Kolesnik headed Tien Shan glaciology expedition. He was very attentive to me and gave a lot of useful advices and instructions. In the further in the capital work about Tien Shan glaciers he placed the data concerned configurations of Petrov glacier and its communications with Karasayskiy glacier received by us.
I mention this episode here because it rendered an essential influence on my further activity as the climber-traveller and supported my confidence that the sports climbing groups can and should combine sports problems with research.
In Przhevalsk we managed to buy six horses, and we were ready to move on the south to Central Tien Shan depth. The first pass passed by us was Dzhuguchak leading through Terskey Ala Tau Ridge to extensive syrts' area.
Everywhere on syrts this and the next years I and my satellites used exclusive hospitality from the Kirghiz grazing the vast collective-farm herds here during the summer period. Cool and freshening koumiss they always treated a traveller was especially pleasant after a tiresome way.
The nature of high-mountainous Tien Shan is severe. On August 15th, when we passed Terskey Ala Tau Ridge and reached the Naryn river (Syr-Darja river) a blizzard started. It lasted two nights and day. The thickness of snow layer was almost a meter. But we were lucky. We sat in warm cosy rooms of Tien Shan high-mountainous observatory where we came just before the beginning of a bad weather.
In a day the sun was shining brightly. Fresh snow painly blinded eyes. The peaks of Ak-Shiyrjak ridge were shining in front of us with its whiteness. The Naryn river originates from its glaciers. Ak-Shiyrjak Ridge is remarkable that it is one of the main water-separate ridges between pools of the rivers Syr-Darya (Aral sea) and Tarim (Lobnor lake).
We decided to climb at the large peak nearest to an observatory, Sary-top peak closing a glacier with the same name. Then we got acquainted with artful properties of Tien Shan snow for the first time. Later we suffered from it not once. A high-altitude snow on northern slopes of peaks is mealy, friable and dry. Sometimes you fail upon a breast in this snow. Rise on such snow slope is extremely hard especially if the slope is significantly abrupt. It is impossible to rise beating out a step with a leg. It is necessary to dig a snow trench operating both legs and hands. After such preparation you feel under legs similarity of a step at last. However you move down back very frequent from such s step and all painful work begins again.
The climbing at Sary-top peak (5100) took two days. V.A. Engelgardt, M.N. Ljubimova, K.S. Letavet and me took part in it. It was our first climbing at Tien Shan.
I understood confused orography of a ridge. It was well visible that the left branch of Petrov glacier is closed with Karasayskiy glacier.
Descent on digged way was much more quickly, and we were on a Sary-top glacier moraine in the evening of second day where horses waited for us. After two-day staying in continuous snow rooms of Tien Shan observatory seemed to us especially warm and cosy.
After day of rest we went to Petrov glacier which gives rise to the main source of the Syr-Darya river. The glacier has smooth surface almost without a moraine cover. We went quickly. It was soon found out, that the glacier has the powerful left (southern) branch of almost the same length and capacity, as the basic not designated on maps. This left branch also is closed with Karasayskiy glacier as we found out it earlier, at climbing.
1933, 3rd expedition. Tien Shan, Kockshaaltau ridge, new glaciers and peaks, including Academician Schmidt peak.
1934, 4th expedition. Tien Shan. Sarydjas, Kuylju. M. Pogrebetskiy and all others thought that Khan Tengri is the highest peak.
1936, 5th expedition. An expedition of the Moscow House of scientists, Kuylju Ridge - Taldy-su gorge. Karakolsky pass was opened. The same year climbers from Alma-Ata (I. Tutunnikov, E. Kolokolnokov, L. Kibardin) and Moskow (E. Abalakov, V. Abalakov, L. Gutman and Dadiomov) climbed at Khan Tengri. The Victory Peak again remained not noticed!
1937 - 6-th expedition. The head of expedition on Central Tien Shan. Терскей-Алатау (with it - Ходакевич, Ошер, Тимашов, Mukhin, Tchekmaryov, Рацек, Skulls, Белоглазов, Priests). Peak Нансена (Skulls, Белоглазов, Priests, Рацек). Peak of the Constitution (Skulls, Priests, Рацек, Mukhin). Karpinsky's peak (Летавет, Ходакевич, Ошер, Белоглазов) from which they also have seen to the south from Khan Tengri not known top of greater height.
1938 - 7-th expedition. The head of expedition on Central Tien Shan - peak of the 20 anniversary of Komsomol (the future Pobeda peak): Гутман, Сидоренко, Ivanov.
Pobeda peak - the highest top Тянь-Шаня, the second on height in the USSR (7439). It is located in ridge Кокшаалтау, in 20 km to the south of Khan Tengri. On slopes powerful glaciers. The first ascention is accomplished in 1938 participants of the Soviet expedition of L.A.Gutmanom, E.I.Ivanov, A.I.Sidorenko under direction of A.A.Letaveta. The top has been named by peak of 20 years ВЛКСМ. In 1943 Soviet topographers led by P.N.Rapsovym the true height of the top which have received the name of Pobeda peak is certain.
1946 - 8-th expedition. The Marble wall (6.150) which reach Науменко, Timashev, Ivanov, Gusev, Mukhin, Дайбог, Nikolsky of Century supervises over expedition to Tien Shan to peak
1947 - Peter the Great ridge, glacier Шини-Бини, peak of the 30 anniversary of the Soviet state (6.440), peak Moscow (6.994), peak Липского (5.500), pass Letaveta (4.880).
In 17 years, in the summer 1947, I have again made travel to mountain Tajikistan - in area of a ridge of Peter the Great, partially on the route which has been passed in 1930 In the past of 17 years Stalin five-years periods have been successfully completed and Great Domestic war is victoriously finished. There was an anniversary year - year of the thirtieth anniversary of the Soviet state. Climbing groups sent on storm of the highest and труднейших tops in honour of commemoration of this great date.
The forwarding group organized by All-Union committee on affairs of physical training and sports has gone to area of glacier Сагран (Peter the Great ridge). The structure of expedition included 14 highly skilled climbers, among them 9 masters of sports. A climbing part headed ЗМС. M Абалаков. On me the general management of expedition laid. We had fine high-mountainous equipment and have been provided by all necessary. It was absolutely unlike our modest undertaking in 1930 Not without reason have passed for development of mountaneering in the USSR this 17 years.
Before expedition there was a task in view:
To survey the high-mountainous area located in верховьях of glacier Сагран, and to make ascentions on some tops;
To make the scheme of ridges and congelations and to give their geographical description,
To make filming works of expedition in conditions of greater heights.
Travel, as well as in 1930, has begun from Сталинабада. So, in 17 years I again in Сталинабаде. I went, as fascinated, and nothing learned. Really it is that city? Now it was quite modern city, beried in verdure parkways, with wide direct streets, with solid beautiful constructions. Curve streets, хибарки, rare trees, a dust - all this has departed in the past. Even the hot exhausting wind - "Afghan" - and that in powerlessness has receded before a green wall of trees. So the hand of the person in the country of socialism has changed the nature.
From Сталинабада our way laid in one of the most remote regional centers of mountain Tajikistan - Джиргиталь, located on the river Surhob. On a place of a pack track, on a place unsteady «оврингов» on which we cautiously spent the horses per 1930, now there passed a highway. Two days of an automobile way, places, the truth, enough difficult, and we - in Джиргитале.
The further way from Джиргиталя in depth of mountains of northwest Pamir is difficult enough. At settlement Domburachi it is forwarded through the wide and rough river Surhob on so-called «салах» - the easy rafts connected from надутых by air of the bull skins. « Салы » are born at reckless speed on the boiling surface Сурхоба, operated by oarsmen-Tadjiks, among foaming jets and whirlpools, and in kilometer below on a watercourse, at last, stick to opposite coast. The pack way upwards on the river of Flours-су and then in теснины its inflow - the rivers Sagran further follows. At last, will reach language of glacier Сагран. From here all cargo of expedition to us should be born on the shoulders. Tiresome двадцатикилометровый a way on glacier Сагран - through huge мореные shaft, through the rough river proceeding on the middle of a glacier, through gaping cracks. Suddenly, at turn of a glacier, somehow absolutely suddenly before eyes there is a wonderful vision - the harmonous top having the form as though of a tent, on much exceeding everything, that it is surrounded. It is that top which in 1930 we observed from pass Sagran. In honour of the 800 anniversary which have executed in 1947 of capital of our Native land - Moscow, we decide to give fine top the name « peak Moscow ». Its height about 7 000 m.
In верховьях glacier Сагран, on its left moraine, at height of 4500 m, the small tent small town ours grows is « the basic camp ». And then eighteen days of persistent struggle both severe work passage and inspection тридцатикилометрового a stream of glacier Сагран follow; rise on перевальные saddles in ridges; investigation and storm of the main tops of area Weather does not favour: a wind, a blizzard, a cold.
At last on September, 3rd all structure of expedition again has gathered in « the basic camp ». It is possible to sum up to successes and failures. - an ascention on peak Moscow - was not possible to finish the most interesting sports problem. The bad weather burst at storm and continued almost without interruption six days, has forced the assault group, headed Evgenie Abalakovym, to refuse a task in view. Products were on an outcome, and long отсиживание at the big height has exhausted forces. But nevertheless it has been made much - the way of rise on a northwest crest of peak has been in details developed and the height of 6200 m. the Ascention on peak Moscow, one of the highest tops of Pamir is reached, - remains a honourable sports problem for the Soviet climbers.
It was possible to make an ascention on the top of pool of glacier Сагран second on height - peak of the 30 anniversary of the Soviet state, высотою in 6440 m, closing in northeast sources of glacier Сагран. Восходители: Evgenie Abalakov, Evgenie Timashev and Evgenie Ivanov. Participants of expedition have risen on перевальные saddles:
In a ridge separating glacier Сагран from glacier Гандо;
In a ridge separating from glacier Шини-Бини. For the first time there is passed completely all glacier Сагран.
The especial attention has been given to its sources which till now were not known. The full orographical scheme of glacier Сагран and its interrelations with glaciers Фортамбек, Шини-Бини and Гандо is made.
At last, filming of works of expedition at height more than 6.000 m (Сидоренко and Занякин) has been made. The majestic panorama of peak of Stalin from the West with remarkable фирновым a plateau, anybody yet виданная, has been photographed on a film and could become property of thousand spectators.
Despite of a number of failures, there were all bases to be satisfied both sports, and scientific results of works of expedition. It was especially joyful to me, visited these places again in 17 years.